the 'Chinook'Tandem Series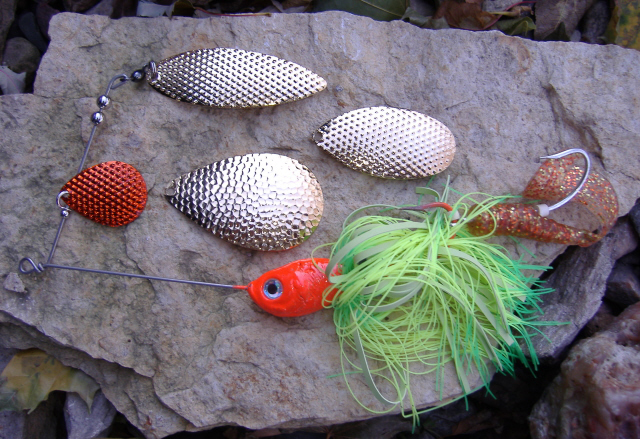 Chinook tandem spins are classic horizontal retrieved Muskie spinnerbaits. These are ultra heavy duty spinnerbaits available in 2, 3 & 4oz. head weights. Chinook tandems are also available in three different top blade styles. Each Chinook comes with a #6 Colorado front blade and a top blade in Diamond Pattern featuring custom Muskiemachinery transparent paint.

Indiana Chinook The Indiana Chinook is fitted with a #9 Indiana top blade. This an excellent choice as the #9 offers exceptional thump. Many Muskie anglers believe the #9 Indiana's thump rivals even that of a #8 Colorado. Great for working in classic tandem spin situations this is very weedless bait casting or trolling.

Willow Chinook Fitted with a #7 Willow top blade, the Willow Chinook is made to run deeper because the low resistence of the narrow Willow blade. Low resistence almost makes the Willow Chinook a great bait to buzz right under the surface when a fast retrieve is moving fish.

Mag Chinook The Mag Chinook features a #10 Magnum Colorado top blade. Offering the same big fish thump as the Huey, the Mag Chinook tandem is made to run thru a weedbed calling to big Muskies. Excellent choice in dark shallow water situations.